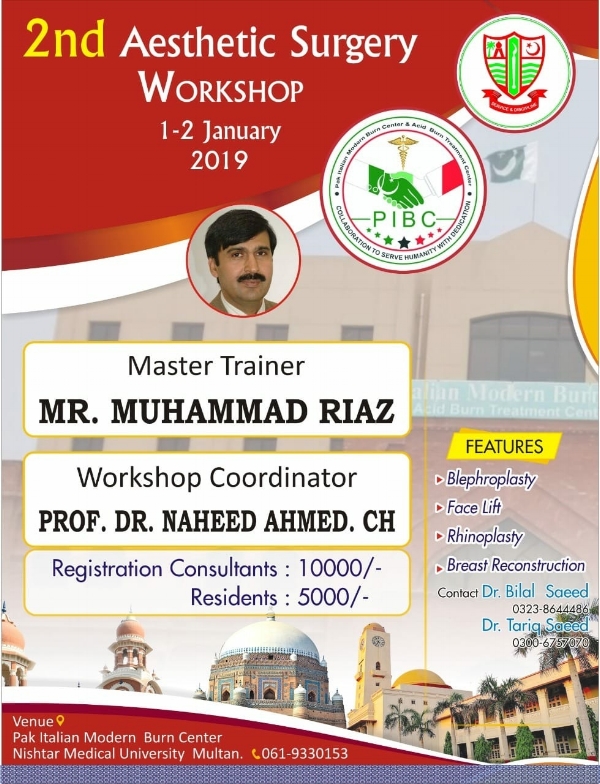 Dr Yasir Iqbal Visits Hull For A Week To Observe Aesthetic Surgery With Mr M Riaz.
Dr Yasir Iqbal is a plastic surgeon working in Rawalpindi and cleft hospital, Gujrat
.
Dr Yasir Iqbal was awarded BFIRST Fellowship to come to UK see the set up and service of multidisciplinary Cleft Service so that he can set up the same in Cleft Hospital, Gujrat. He came to Hull for a week to observe Aesthetic Surgery with Mr M Riaz.
Webinar Surgeon
All surgery videos provided by Mr Riaz are available through www.thewebinarsurgeon.vhx.tv
All videos have been supplied to The Webinar Surgeon at no cost. Mr Riaz has no financial interests in The Webinar Surgeon and does not collect royalties for video usage.
Mr Prakash Lohana completed Aesthetic
Fellowship with Mr Riaz on 22 July 2018.
Mr Parkash Lohana spent some time in recent months working with Mr Riaz in the private hospitals across the region, prior to taking up a consultant plastic surgeon position with the Buckinghamshire NHS Hospitals Trust. He wanted to get some experience working in the private sector, observing cosmetic surgery procedures with Mr Riaz to further increase his knowledge base. There is no opportunity for plastic and reconstructive surgeons to gain experience in aesthetic procedures within the NHS during their many years of training, as the resources within the NHS do not allow for this; they are far too stretched. Such was Mr Lohana's interest and commitment that he opted to do this entirely in his own time, largely during annual and unpaid leave. He worked with Mr Riaz in both in the Out-patient Clinics and in the Operating Department, for a number of weeks, engaging with many cosmetic patients. This gave him the opportunity to see patients before during and after their surgery.
We take this opportunity to offer Mr Lohana very best wishes in his position with the Buckinghamshire NHS Trust.
BAAPS/BAPRAS Aesthetic Fellowship
Applications are now open for the BAAPS/BAPRAS Aesthetic Fellowship. The fellowships are designed to support post-CCT Trainee Plastic Surgeons wishing to learn skils in Aesthetic Surgery and Medicine.
4 Fellowships of £8,000 each are available in 2017. Fellows will be given the opportunity to assist a senior aesthetic practitioner and their team for a period of 3 months. The Fellowship will comprise the following:
Exposure to a full range of Aesthetic Surgery including breast, truncal, facial and peri-orbital surgery.
The opportunity to participate in outpatient, pre and postoperative care.
Protected time given to individual tutorials on various aspects the Aesthetic Surgery syllabus.
A supervised research project or audit.
The deadline date for applications is the 28th of March. Please click here to apply.
Notes from Students & Colleagues
Mr WILL HOLMES
Awardee of the BAAPs/BAPRAS Scar Free Foundation Aesthetic Fellowship 2017.
BAAPS/BAPRAS Scar Free Aesthetic Fellowship
I am writing to formally thank you for being my supervisor for the above fellowship.
The BAAPS/BAPRAS Fellowship is the most senior aesthetic fellowship available in the UK and is offered to successful candidates at interview. The three-month fellowship is to provide an in-depth experience in cosmetic surgery to aid those post-CCT trainee who are interested in starting up a safe aesthetic practice.
I have thoroughly enjoyed the last three months. I found your teaching to be exemplary and count myself extremely fortunate that I had a supervisor who was willing to show me all aspects of cosmetic surgery, rather than just the operating theatre.
It was a privilege to spend time with someone who offers the full complement of aesthetic surgery. During my time with you I learnt your novel techniques of R-lift, R-BBR and internal browpexy as well as your approach to the full range of cosmetic surgical procedures from head-to-toe.
Observing clinics allowed me to see how you manage expectations, confer information, and support patients in their informed decision making. There is no doubt that the clinics were the most informative and I am thankful for your enthusiasm and honesty in showing me how to approach and manage the more complicated cases.
The theatre sessions were essential for learning the techniques for each procedure. The more I witnessed the more I could consolidate my learning. It was also informative to see how your technique had evolved in response to what we both saw in your post-operative clinics. Such a vital learning objective for me was to see patients throughout their post-operatively journey, and this was easily achieved due the high-volume and ease of access to clinics
I am also very grateful to you for arranging my education trip to London to spend time with some rhinoplasty surgeons, who, because of your introduction, were extremely accommodating, and taught me a huge array of techniques.
Special thank must also go to Annette Middleton, your surgical assistant, who was extremely helpful in theatre, understanding of my needs, and always allowed me to be first assistant when necessary.
The fellowship was 3-months during which time I spent a total of 48 days with you. I attended a total of 35 clinics and 26 GA theatre sessions. I saw a total of 80 new patients with the following:
19 Truncal procedures

2 Rhinoplasty

12 Periorbital rejuvenation

2 Labia rejuvenation

18 Facial rejuvenation

25 Breast rejuvenation
In addition, I spent time in with the following surgeons:
Professor S Kay

Mr. O Fenton

Mr. N Rhodes

Dr. G Williams

Mr. L Ion

Mr. B Matti

Mr. K Patel
Lastly, I must extend my thanks to all the staff at Spire Hull, St Hugh's and Park Hill, Doncaster. The nurses and theatre teams, and management were extremely accommodating and made every effort to maximize my learning. I am very grateful to them all.
Thank you again for all your teaching and wisdom over the last 3-months. I feel that completing this fellowship has provided me with all the necessary tools and knowledge to start up my own aesthetic practice. With you as a mentor I feel very confident that will be able to provide my patients with high quality cosmetic surgery, in a safe environment.
Yours truly,
Mr. Will Holmes FRCS(plast)
Miss. Anna Smola
Medical Student (GermanY)
In 2016 Anna Smola, a German medical student in her 4th year of training had the opportunity to select a surgical speciality to observe and work in for six weeks. She elected to come to the UK (usually these medical students remain in Germany) and observe the work of the Consultant Plastic Surgeons with the Hull & East Yorkshire Hospital Trust, including Mr Riaz.
Here's what she had to say about her experience.

My teaching experience with Mr Riaz
In August 2016 I came to Hull to get to know more about the field of Plastic and
Reconstructive Surgery and also to get an insight into the British healthcare system which is very different from the German one. I was very lucky to have the possibility to spend a lot of time working with Mr Riaz during my elective. I attended his lists at Castle Hill Hospital and also at the Spire and St.Hughs. Mr Riaz also took me to his clinics at the private hospitals in Hull and Grimsby and also in Doncaster.
During all the time I spent working with Mr Riaz, I could see that he always had his patients' best interests at heart at the same time being very humble. He and his team always made patients feel very welcome, and they also made me feel very welcome as a student. I was very lucky to witness Mr Riaz working in theatre: it is quite amazing to watch him perform all kinds of surgeries from hand surgery, breast surgery to his "R-face lift" and much more.
Mr Riaz pays attention to every little detail, and so even the smallest stitch was very important. During the clinics and surgeries, he explained all the procedures to me and also emphasised what to pay attention to. I learned so much during the time I spent with Mr Riaz.
I am very grateful to Mr Riaz, and I will do my very best to have the same strong work ethic to help my patients in the future.'
Mr. Simon Nicholson
FRCS(Plast)
Mr Riaz has been a very supportive teacher and mentor during my several visits to his private practice in Hull. I have attended his theatre lists as part of my 4-month cosmetic reconstructive surgery fellowship. I have learned a number of new operative techniques that I have not been able to pick up elsewhere, both as entire procedures and as small tips and tricks that cumulatively make my own operating much more fluid and efficient.
Most notably, I have studied under Mr Riaz to learn his revolutionary new facelift technique; the 'R' lift. This technique is perhaps the safest method of achieving a full face and/or neck lift, and with possibly the lowest side-effect or complication profile. Having worked with Mr Riaz I feel very confident using this technique independently in my own practice; indeed I cannot see a reason to do any other kind of facelift.
In addition to a range of other procedures, Mr Riaz has shown me a series of very logical modifications to the technique of breast reduction and mastopexy, designed to improve the overall aesthetic outcome and maintain longevity of results. I have already used these in my own practice with good effect.
Due to Mr Riaz's very thoughtful approach to each clinical situation, he has very robust reasons for everything he does in surgery and I hope to be able to gain more such knowledge from studying with him in the future.
Teaching & Experience Sharing Gallery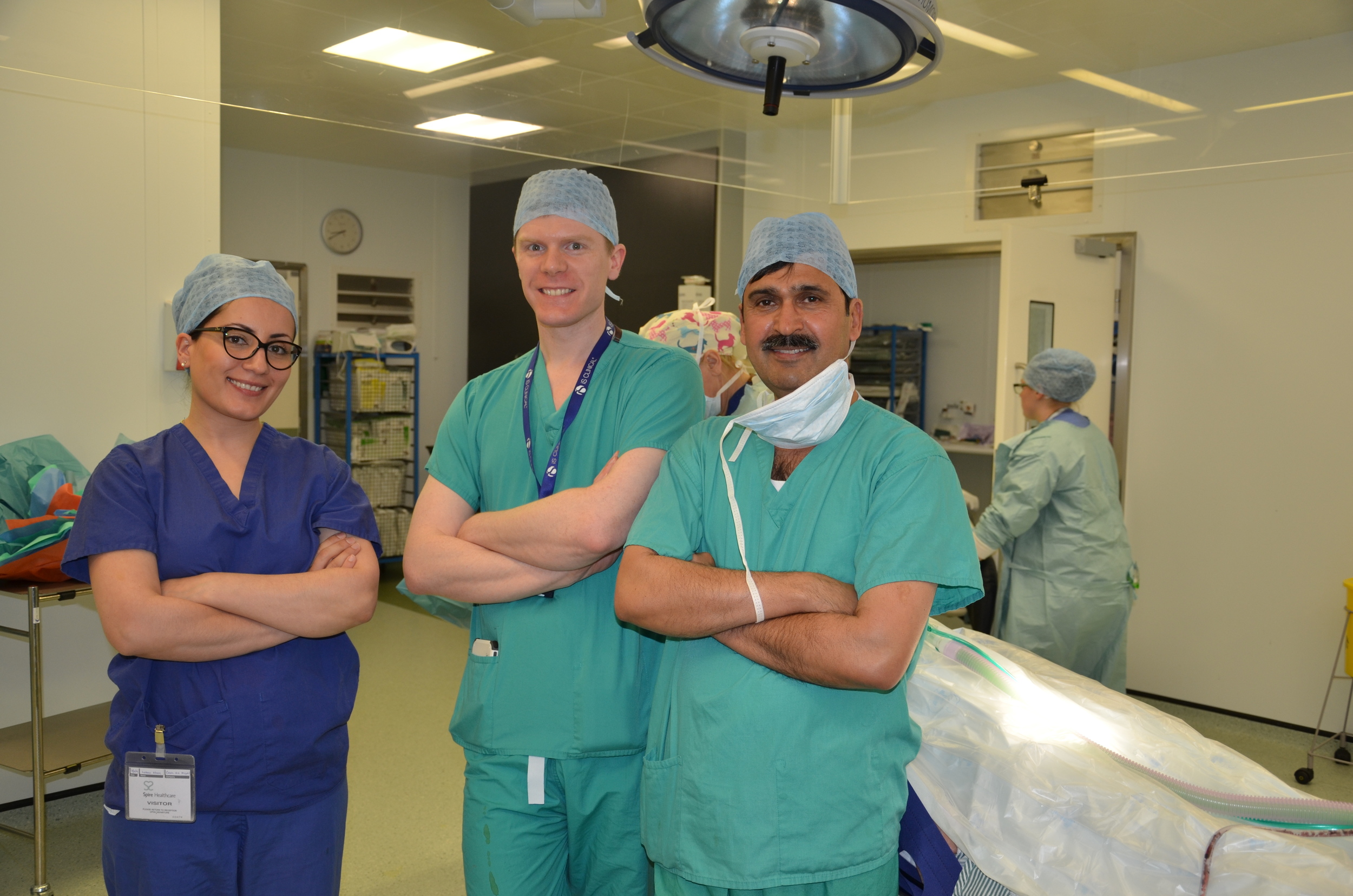 Colleague Appreciation
Click on an image to enlarge it to read.